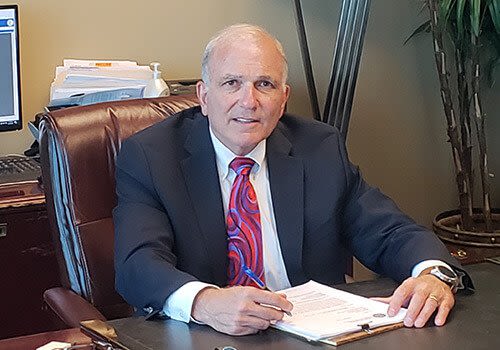 AN ATTORNEY IN THE MAKING
John R. Campbell, Jr. was not only given his father's name, but also shares the same career. However, John didn't only become a lawyer because that's what his dad was; from early on, he felt a calling to tend to the needs of people in their toughest times. He also knew early that he wanted to start his own law firm right from the beginning, so he majored in business while an undergraduate at the University of Missouri before moving on to earn his law degree from UMKC School of Law in 1978.
The first years of John's practice were tough. He recalls basically starving during the first two years in business, but things picked up due to John's diligence, determination, and his self-stated mission in life: to do his small part in correcting the world's injustice. This made everything worth it, especially since he got to do another thing he always wanted — function successfully as his own boss.
GIVING BACK TO A COMMUNITY IN NEED
Our firm has undoubtedly reaped the benefits of John's excellent work ethic and altruistic philosophy, but so has the larger KC community. From 1992 to 1998, John served as city council member for the city of Leawood in Kansas, yet even before that he'd been active in the community. Giving back like that, John says, you realize how many people are actually in need.
I see a lot of injustice in the world. The way I view things, I have a responsibility to do my small part in correcting it.
WELL-RESPECTED BY BOTH CLIENTS AND PEERS
John's many years practicing law have rightly earned him the esteem of both clients and colleagues. The evidence is in the referrals; over the years, many of our clients were referred to us by others who appreciated the way John conducts business.
In addition to that, in 2017 John earned Martindale-Hubbell's Preeminent AV Rating, an achievement that indicates a significant number of peer lawyers have ranked John at the highest level of excellence an attorney can attain. In terms of ethical standards, communication skills, and his sheer breadth of knowledge, John R. Campbell, Jr. is among the best.
CARRYING ON A LAWYERLY TRADITION
When you come to our office, know that you'll be met with compassion, understanding, wisdom backed by over 40 years of experience, and John's daughter Laura — soon to carry on the Campbells' tradition of becoming a lawyer who cares beyond measure.
Whether he's in or out of the office, John loves spending time with his family. He also enjoys golfing, playing tennis, going to concerts and sporting events, and traveling.
BAR ADMISSIONS
Kansas - 2000

Missouri - 1978
EDUCATION
University of Missouri-Kansas City School of Law - J.D. - class of 1978

University of Missouri - B.S. - class of 1975
PROFESSIONAL ASSOCIATIONS & MEMBERSHIPS
Kansas Bar Association - Member - 2000 to present

Missouri Associate of Trial Attorneys - Member - 1995 to present

Missouri Bar Association - Member - 1978 to present

Kansas City Metropolitan Bar Association - Member - 1978 to present